The project aims to achieve a 60 ECTS Master in Artificial Intelligence, connecting 4 European universities, 3 Centres of eccellence and 3 SMEs.
The CNR, with the ICAR and IIT institutes, is a partner of the European Human Centered Artificial Intelligence Masters (HCAIM) project which, together with other European universities, research centers and companies, will create a cutting-edge training course to allow graduates to develop advanced artificial intelligence systems, with the right combination of technological skills and ethical knowledge.

The goal of the HCAIM master is the strengthening of analytical, design and creative skills to achieve artificial intelligence innovations capable of integrating human-centered systems and applications. In fact, in a data-rich world, artificial intelligence can help solve significant challenges for society, but it can also represent a risk. The use of AI must therefore take into account legal and ethical aspects, respecting human rights.

The project, which was ranked first in the call of the CEF-TC programme, on the European Platform for Digital Skills and Jobs, aims to achieve a 60 ECTS Master in Artificial Intelligence. It makes use of the experience of 4 European Universities (Technological University Dublin, Budapest University of Technology and Economics, HU University of Applied Sciences Utrecht, University of Naples Federico II), 3 Centres of Excellence (CNR, CeAdar, ESI CEE) and 3 SMEs (Real AI, Nathean Technologies, Citel Group), plus over 25 more leading ICT organizations who have offered to support the programme.

The Master will be open to students and professionals with a first level degree and a solid technological background. Knowledge of programming and basic statistics will be required to undertake the program. The learning method, based on challenges and problems, will better prepare students for the situations they are likely to face in the "real" world.

The Master will start in the autumn of 2022. In the meantime it is possible to participate in the live Webinars organized by the consortium, meet the instructors, discuss the topics relevant to one's learning path.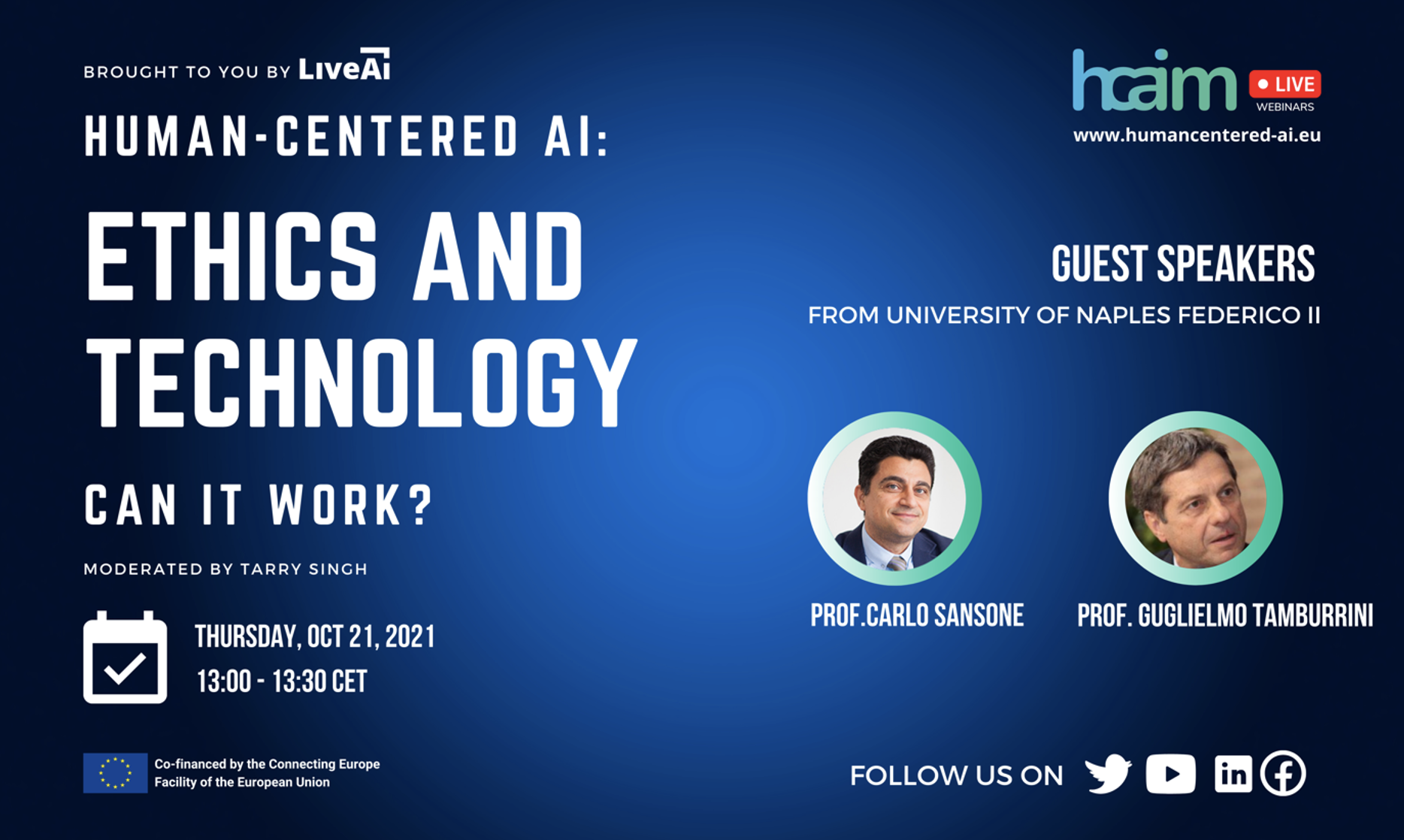 The next webinar will be on Oct 21, 2021 (Thursday), from 13:00 CET and will host two prominent academics from the University of Naples Federico II, namely Prof. Carlo Sansone, a Computer Science and Engineering professor and Prof. Guglielmo Tamburrini, a Philosophy of Science and Technology professor, who will discuss the opportunities and challenges for European universities of disciplinary courses on Artificial Intelligence that emphasize the ethical dimension.
Next webinars areplanned for the following dates:
Nov 11, 2021 (Thursday), 13:00 CET: HCAIM – Studying in Dublin, Ireland with Prof. Dr. Barry Feeney
Nov 25, 2021 (Thursday), 13:00 CET: HCAIM – Studying in Budapest, Hungary with Dr. Jereb Laszlo       
Dec 9, 2021 (Thursday), 13:00 CET: Industry Vertical Series with John Pugh, CTO Natheon Technologies
It is possible to be updated on the project through the HCAIM institutional website and LinkedIN and Twitter channels.